Redondo Beach
Redondo Beach, California is a laidback, lovely coastal city in beautiful Southern California located 5 miles south of LAX International Airport along the Pacific Ocean. Redondo Beach is the South Bay's oldest and largest beach community with a population of 67K. It is the most populous city along the California coast. Redondo Beach is bordered by Hermosa Beach to the north, Torrance to the east and Palos Verdes to the south and the Villas North section of North Redondo borders Manhattan Beach. The city's highly rated public schools and the sense of community are big draws to Redondo Beach.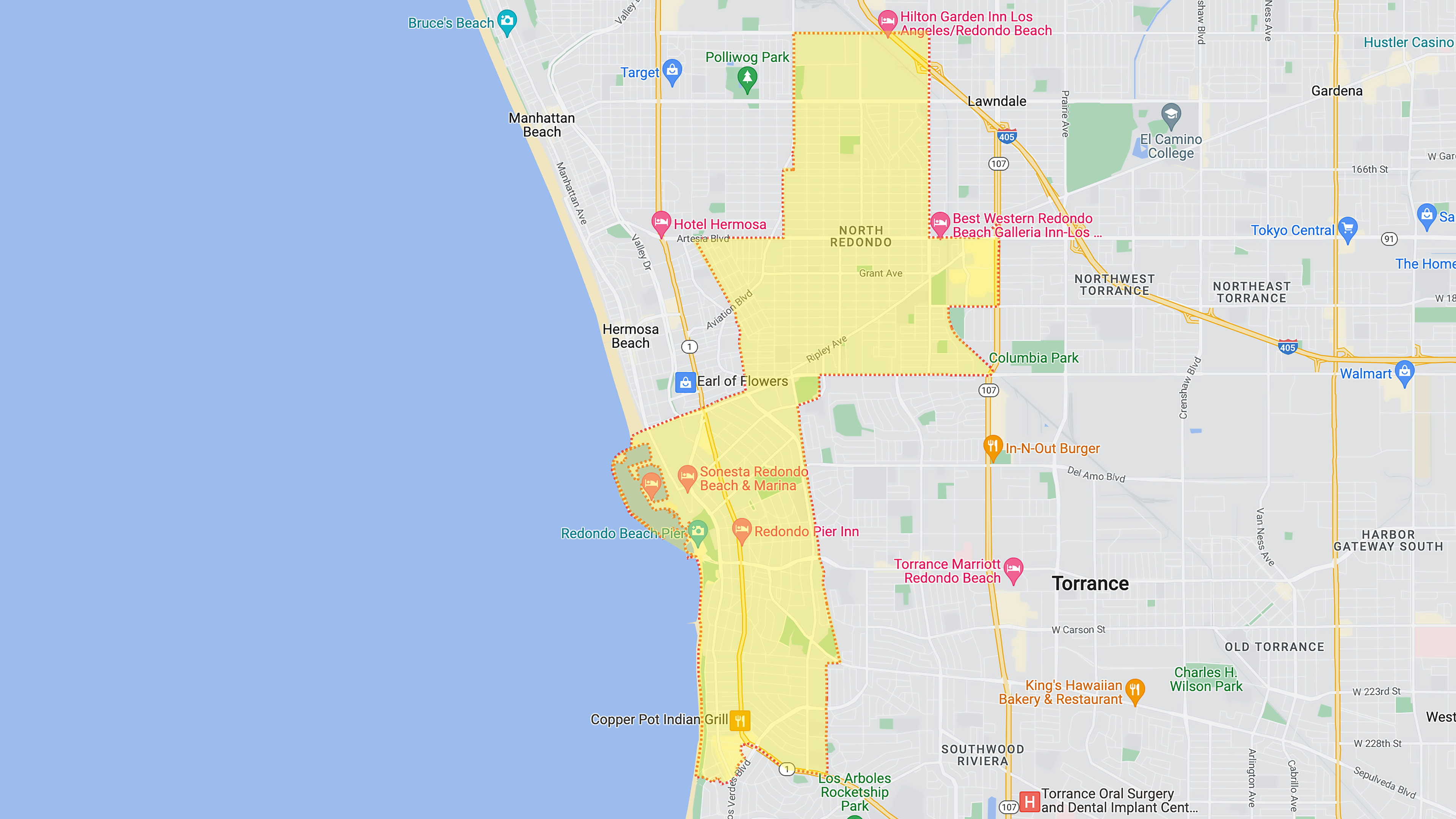 Redondo Beach Community
Redondo has a great sense of community with movie nights, concerts at the pier, Farmer's Markets, annual Kite Festival, Beach Life Festival, Holiday Boat Parade, the Super Bowl 5K/10K fun run and tons of cultural events held at the Redondo Beach Performing Arts Center just to name a few.
Redondo Beach is also a very active community. You will always find people running, biking, walking, surfing or running the stairs at Avenue C for exercise and hanging out on the sand on the beach. It is an excellent place to explore for its beaches, piers, restaurants and shops.
Whether you are looking for a relaxing day on the beach watching the boats and surfers or a fun-filled adventure with plenty of shopping and dining choices, Redondo Beach has something for everyone!
Redondo Beach Unified School District
Redondo Beach Unified school district is ranked as one of the top public schools in the Los Angeles area and a great place to raise a family! Redondo Beach unified is ranked as one of the top schools for athletes in the Los Angeles area and consistently ranks as a top ten school district in the Los Angeles area. Redondo Beach unified is the largest local school district with 13 schools in total. Redondo Union is the South Bay's oldest high school and the second largest high school campus in California and 3rd in the nation on a campus of 56 acres. Redondo Beach only has one high school and Redondo Union is the choice for Hermosa Beach students, who have the choice of attending either Mira Costa in Manhattan Beach or Redondo Union.
Redondo Beach Real Estate
The median home price was $1.5M in Redondo Beach as of December 2022. The cost of living in Redondo Beach is 81% higher than the national average although Redondo Beach is significantly more affordable than sister south bay cities Hermosa Beach and Manhattan Beach.
Redondo Beach Neighborhoods
Redondo Beach is separated into two district zones- North Redondo Beach and South Redondo Beach. The major dividing line is 190th and Anita St. South Redondo has a zip code of 90277 and North Redondo Beach has a zip code of 90278.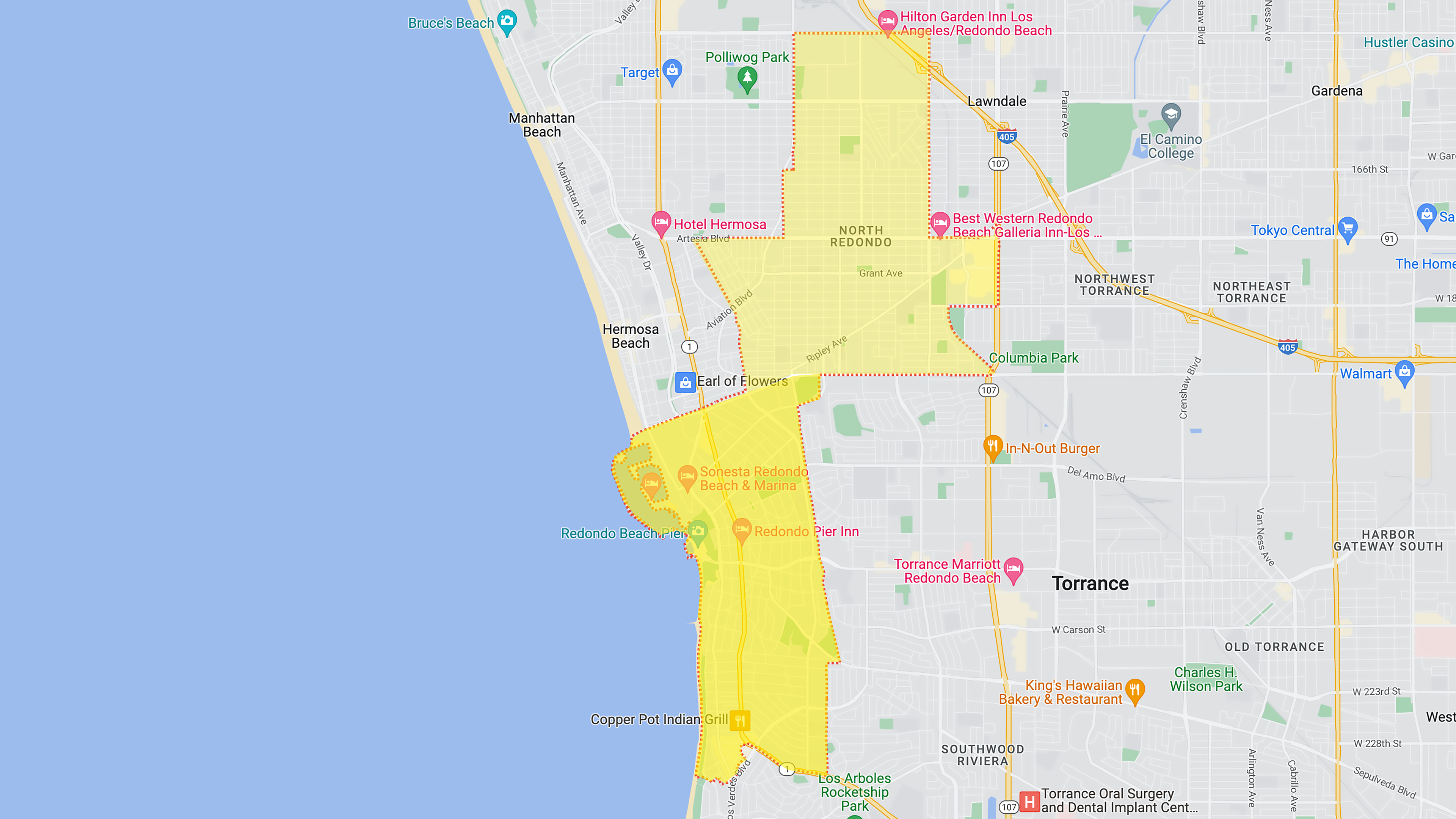 North Redondo Beach has five main neighborhoods and South Redondo Beach has 3 main neighborhoods with numerous micro-neighborhoods in these sections.
North Redondo Beach
North Redondo Beach is a slightly inland section of the city that borders Hermosa Beach, Manhattan Beach, Lawndale and Torrance. North Redondo Beach has five main neighborhoods, which include Villas North, Villas South, El Nido, Golden Hills and the TRW tract.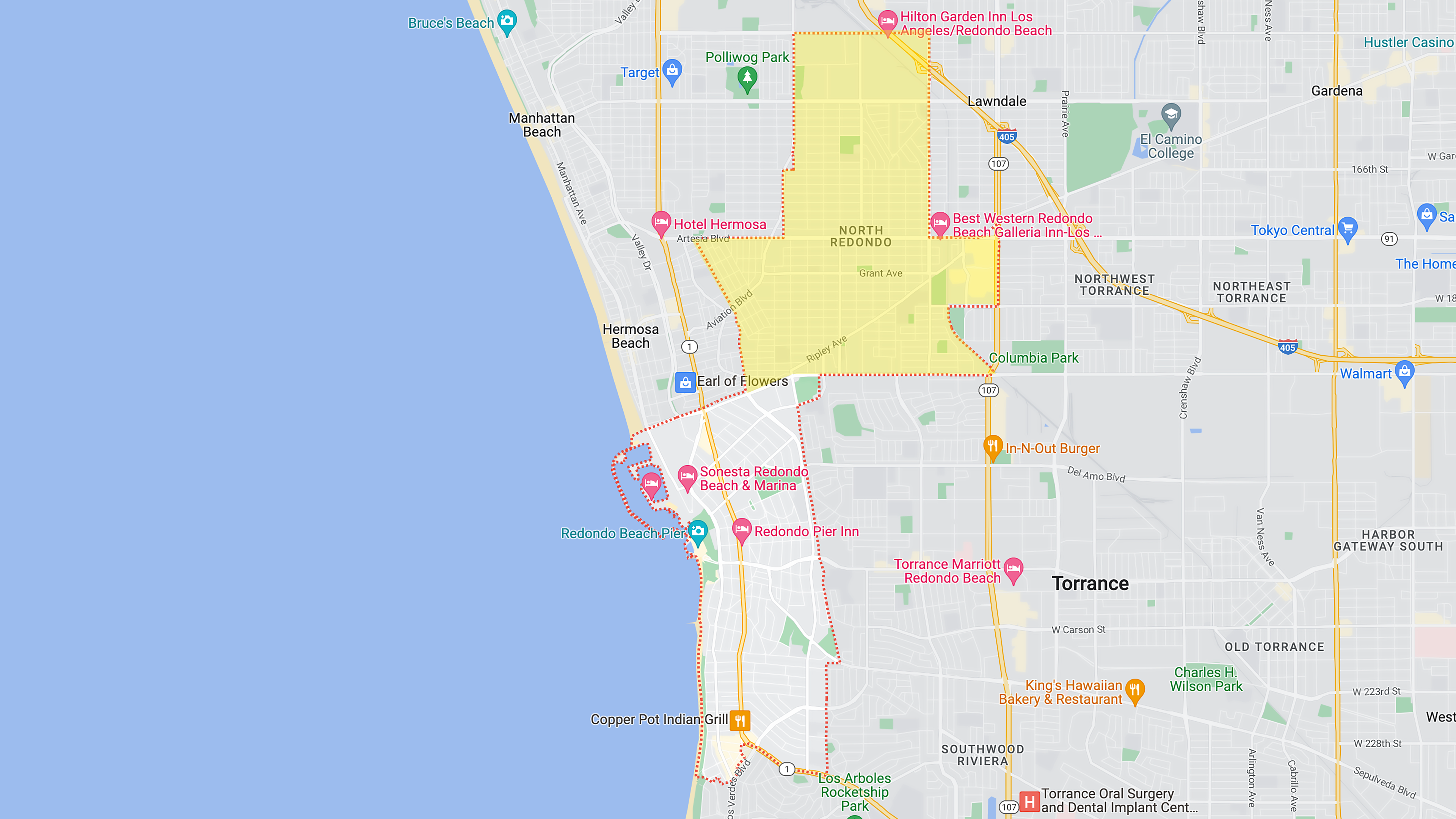 Villas North
Villas North is located south of Manhattan Beach Blvd., west of Inglewood Ave., east of Aviation Blvd., and north of Artesia Blvd. It borders Manhattan Beach to the west making it one of the more desirable areas of North Redondo Beach. Many streets in this neighborhood are zoned R2 and R3, which means you have a property with two or three-on-a-lot townhomes. The R2 zoning allows two townhouses and are typically detached with a small backyard space or front yard and shared driveway. R3 zoning allows three townhouses that are typically attached and the front unit usually has a front yard and the back unit has a backyard with the middle unit usually just having a balcony. Some of these townhouses have rooftop decks. In this neighborhood, you also have older, single family or multi-family properties sprinkled throughout and developers quickly buy those when they come available.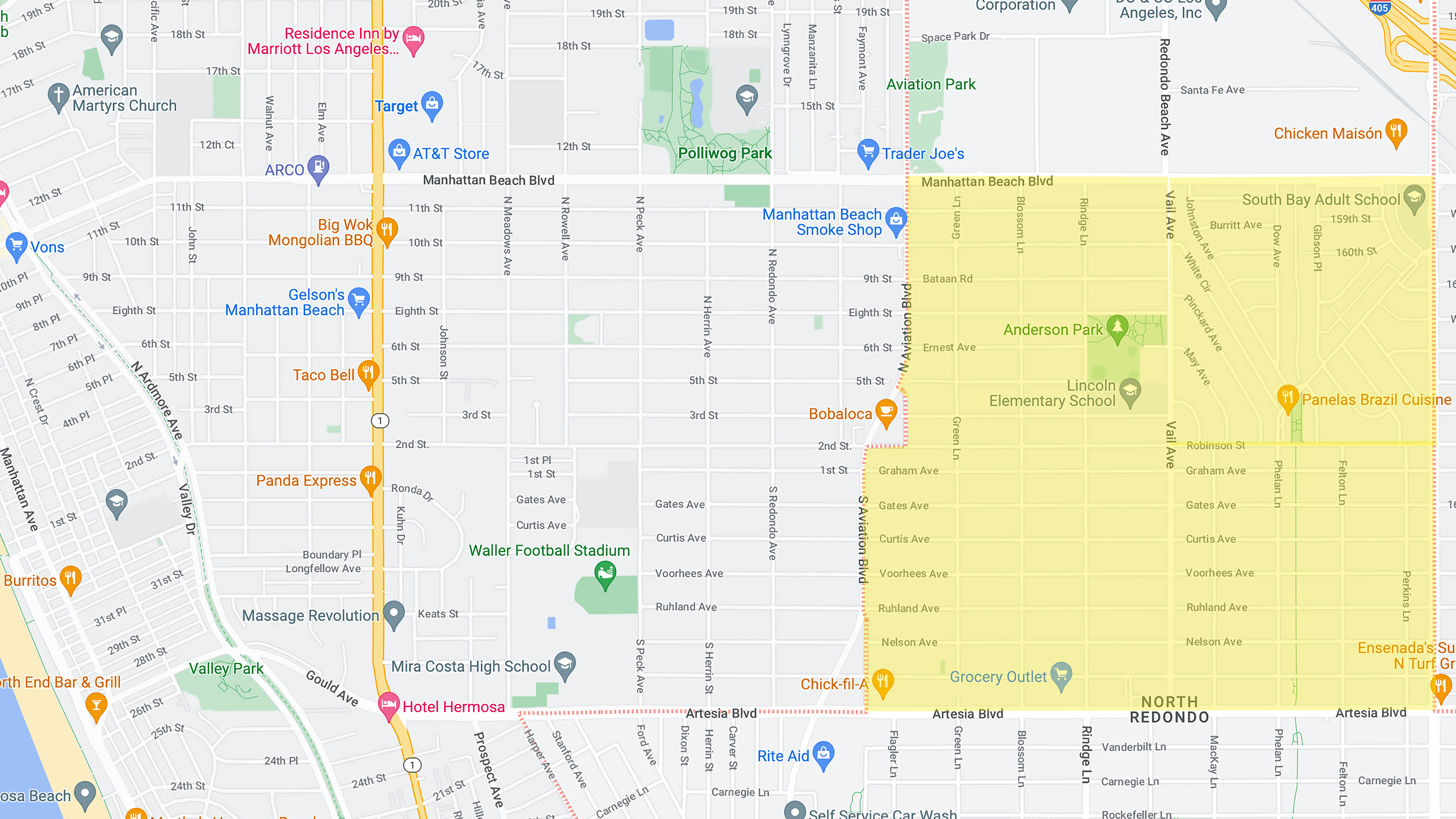 Villas South
The Villas South neighborhood is a triangular area sandwiched between the Golden Hills and El Nido neighborhoods and south of Villas North. You will find more apartment buildings in this area than in Villas North, but also a lot of R2 and R3 zoning similar to Villas North and some single-family homes as well.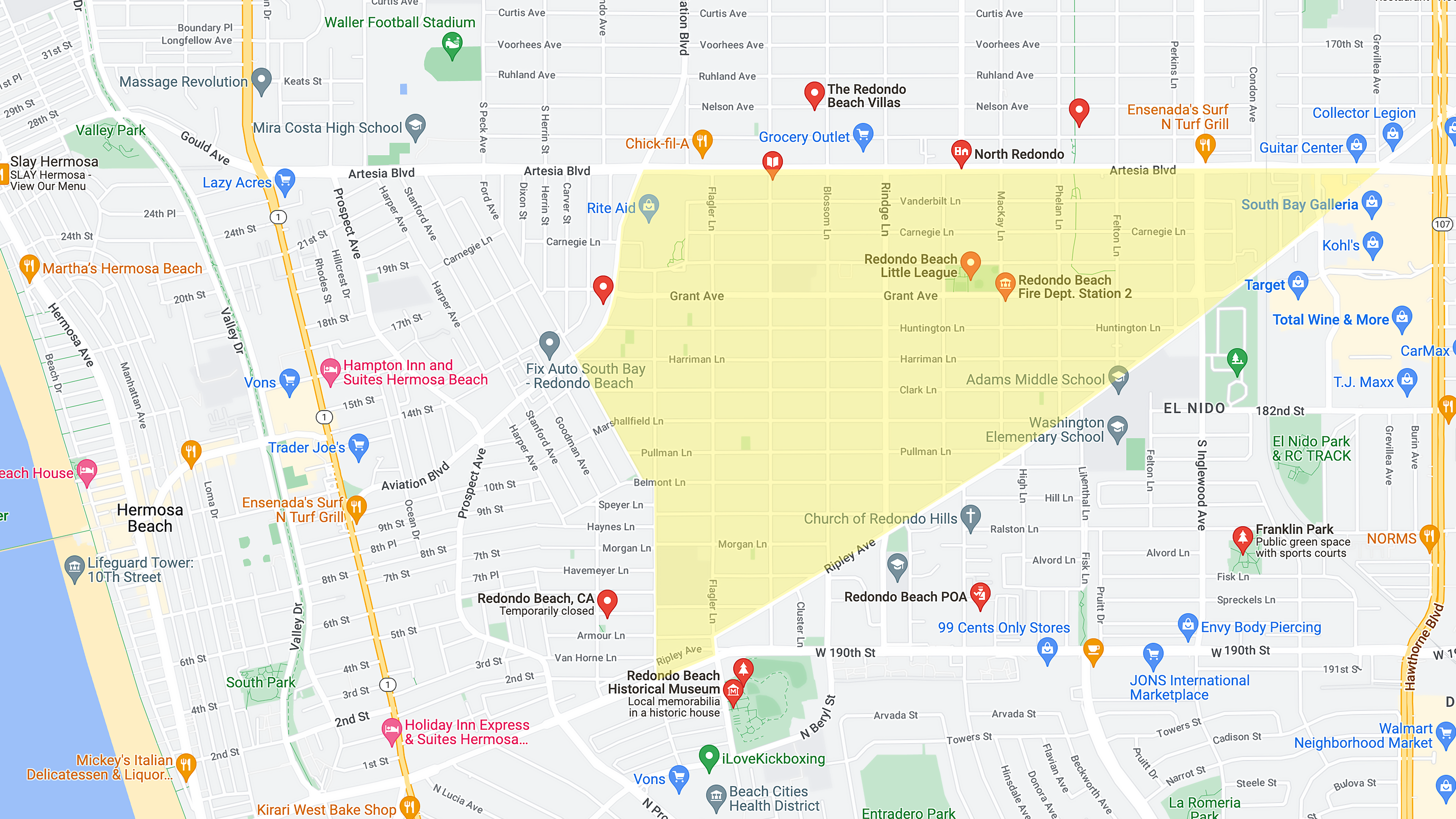 El Nido
El Nido is a small triangular shaped neighborhood that starts southeast of Ripley Avenue and ends at the 190th St. border and bordered Hawthorne Blvd. You have many larger lots in this neighborhood 7500 SF+ and there's a mix of remodeled, older homes and newer homes.
This is a pocket of North Redondo Beach that is seeing a lot of development. You are very close to Washington Elementary and Adams Middle, which is a huge plus for families. Certain streets in this section also get nice views all the way to the Palos Verdes Peninsula.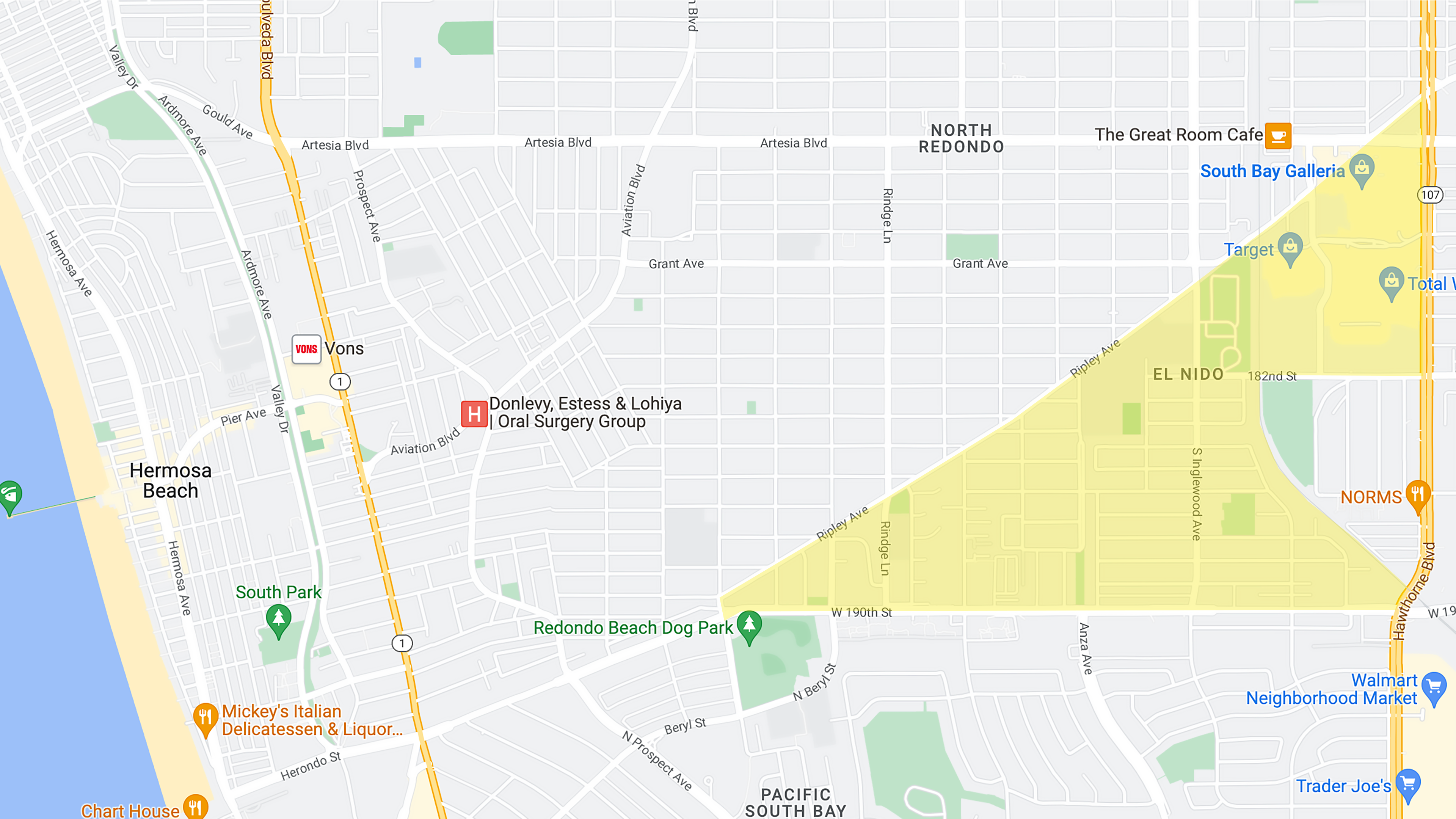 South Bay Galleria
The South Bay Galleria located in the El Nido section of North Redondo Beach. This location has historic significance as it is where John F. Kennedy once gave a speech on the last stop of his campaign tour.
It doesn't look like much now, but in 2019 Redondo Beach approved the redevelopment of this mall that will include a hotel, apartments, skate park, outdoor park, office space, restaurants and retail, which will be amazing for the neighborhoods surrounding the area including North Redondo Beach, Torrance and Lawndale.
As a part of the redevelopment, $2M will go towards street and commercial improvements along Artesia and Aviation Blvd. North Redondo Beach is a more affordable area of the beach cities and I personally think that after the redevelopment is complete that prices will go up significantly because it will become very walkable and add many desirable attractions to the area.
Golden Hills
Golden Hills is a very desirable area of North Redondo Beach between South Redondo, East Hermosa and the southern border of East Manhattan Beach. Most homes in this area are referred to as "Tall and Skinny" because they are townhouse style and are on 2500 SF lots. The majority of these style homes have reverse floor plans with the living and dining on the 2nd level.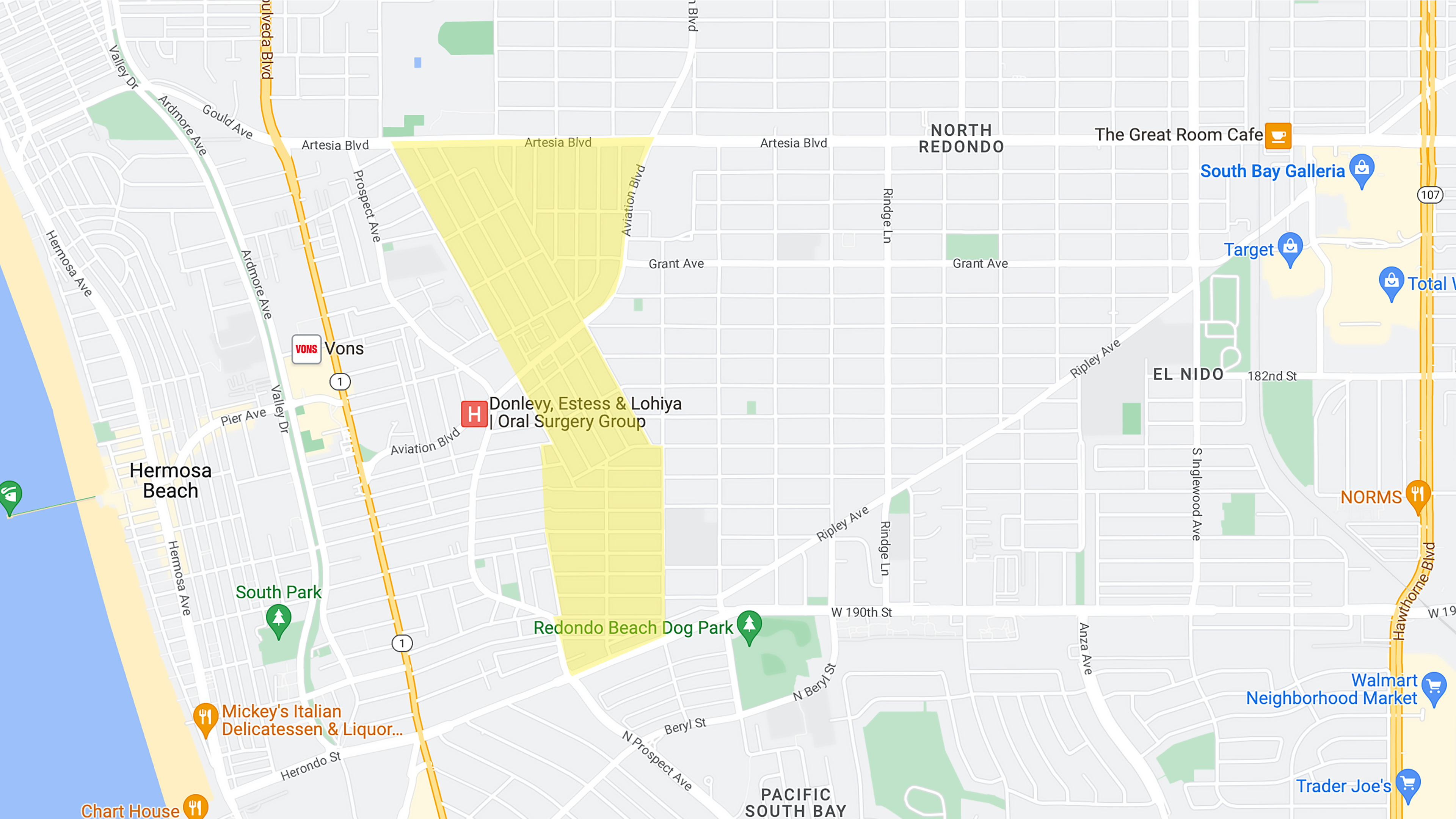 Silver Triangle
Within the Golden Hills section there's the silver triangle. This is located between Aviation, Artesia and Harper Ave. This section is highly desired because it's bordered by Manhattan and Hermosa Beach so you have the best of all 3 beach cities!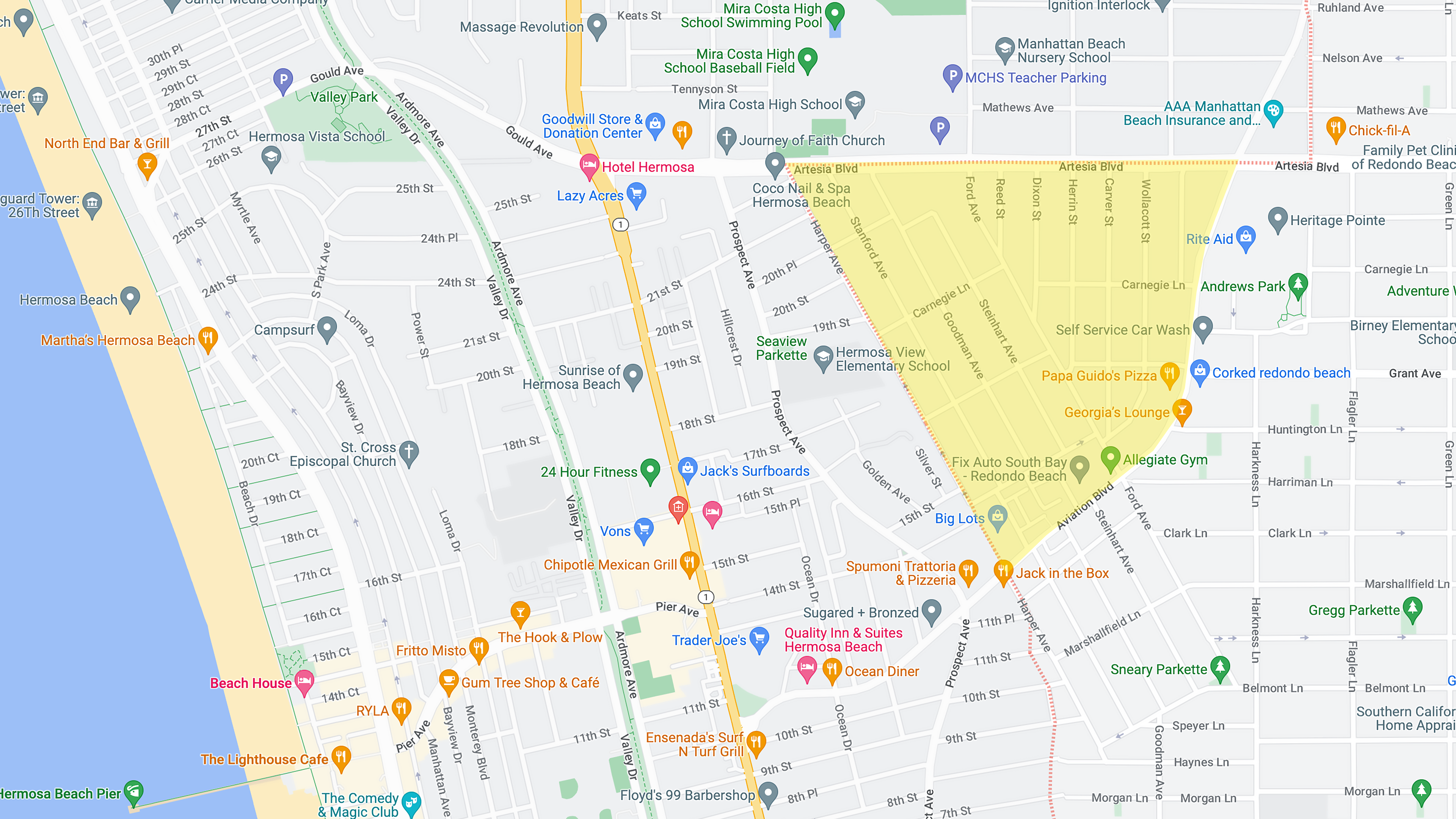 TRW Tract
The TRW Tract is located west of Inglewood Ave., north of Robinson Ave., south of Manhattan Beach Blvd., and east of Vail. This Redondo Beach neighborhood consists of single-family homes with 5-8K SF lots on tree-lined streets. Anderson Park is close by, which is a 12-acre city park with play area, basketball and tennis courts and a senior center.
We are seeing a lot more development in this neighborhood and bigger homes popping up. It's a good option for people who want new construction because you can buy an old home in this neighborhood for under $1.3M and build a 3000 SF home for around $900K so all in you are looking at spending around $2.3M. In comparison when you purchase a newer construction in this neighborhood it will be listed over $3M so if you build you get instant equity and a brand new home exactly to your taste.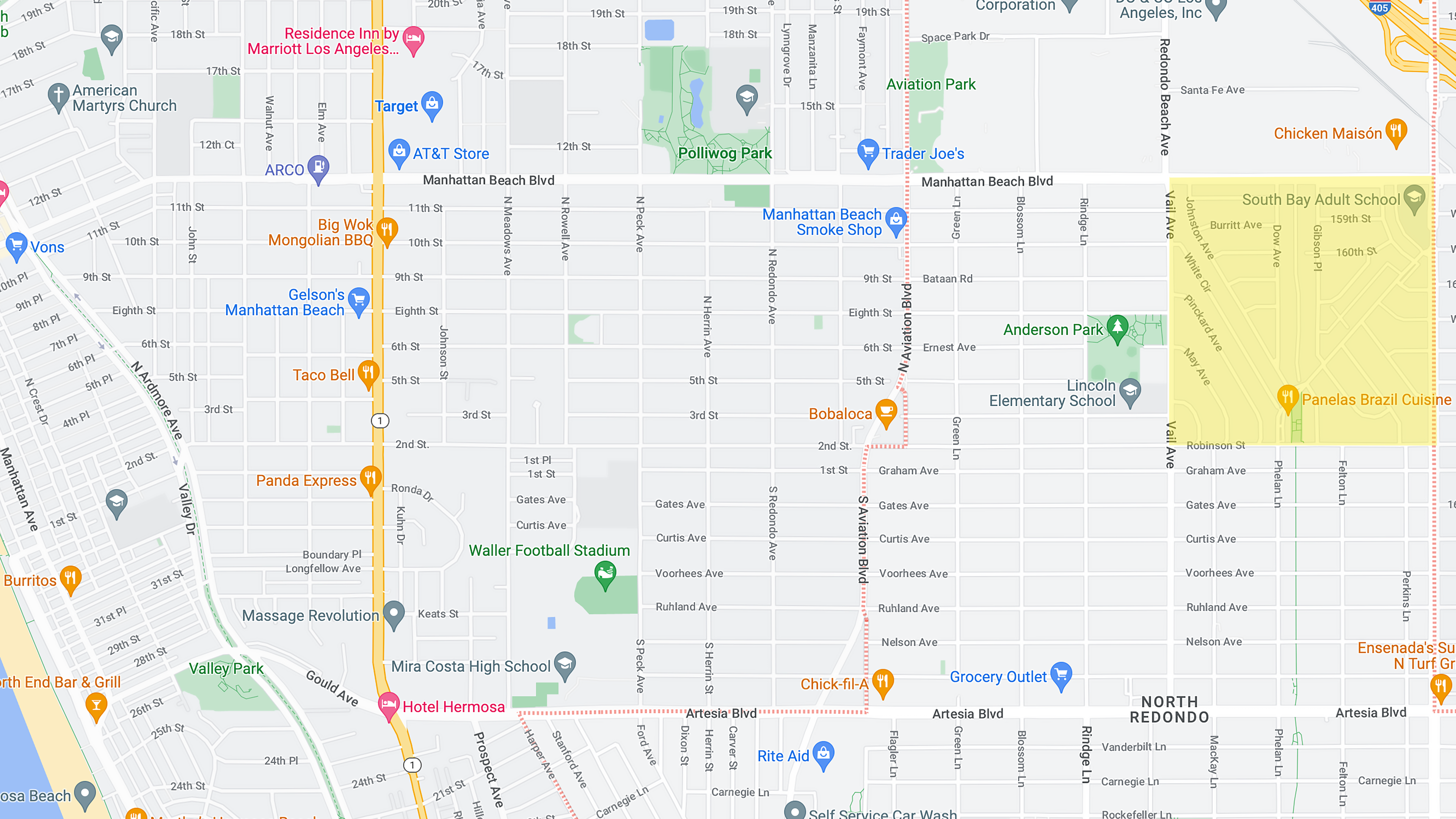 South Redondo Beach
South Redondo Beach consists of three main areas with numerous micro-neighborhoods within those areas. The major dividing lines for these areas are PCH (Pacific Coast Highway), Torrance Blvd. and Palos Verdes Blvd.
Homes that are located on the west side of PCH are considered the "West of PCH" neighborhood, which includes micro-neighborhoods: The Esplanade, The Lower Avenues, The Pier and The Marina.
Homes that are located on the east side of the PCH are divided into two areas. There is the North of Torrance Boulevard section, which has two micro-neighborhoods that include North of Redondo Union High School and South of Redondo Union High School. You also have the South of Torrance Boulevard section, which has two micro-neighborhoods that include Alta Vista and The Upper Avenues.
The Hollywood Riviera is another area of South Redondo that has a 90277 zip code because of a post office in this section, however, it technically belongs to the City of Torrance.
South Redondo also has great ocean front parks like Veterans and Miramar Park- great for walking your dog or enjoying a chill day with friends.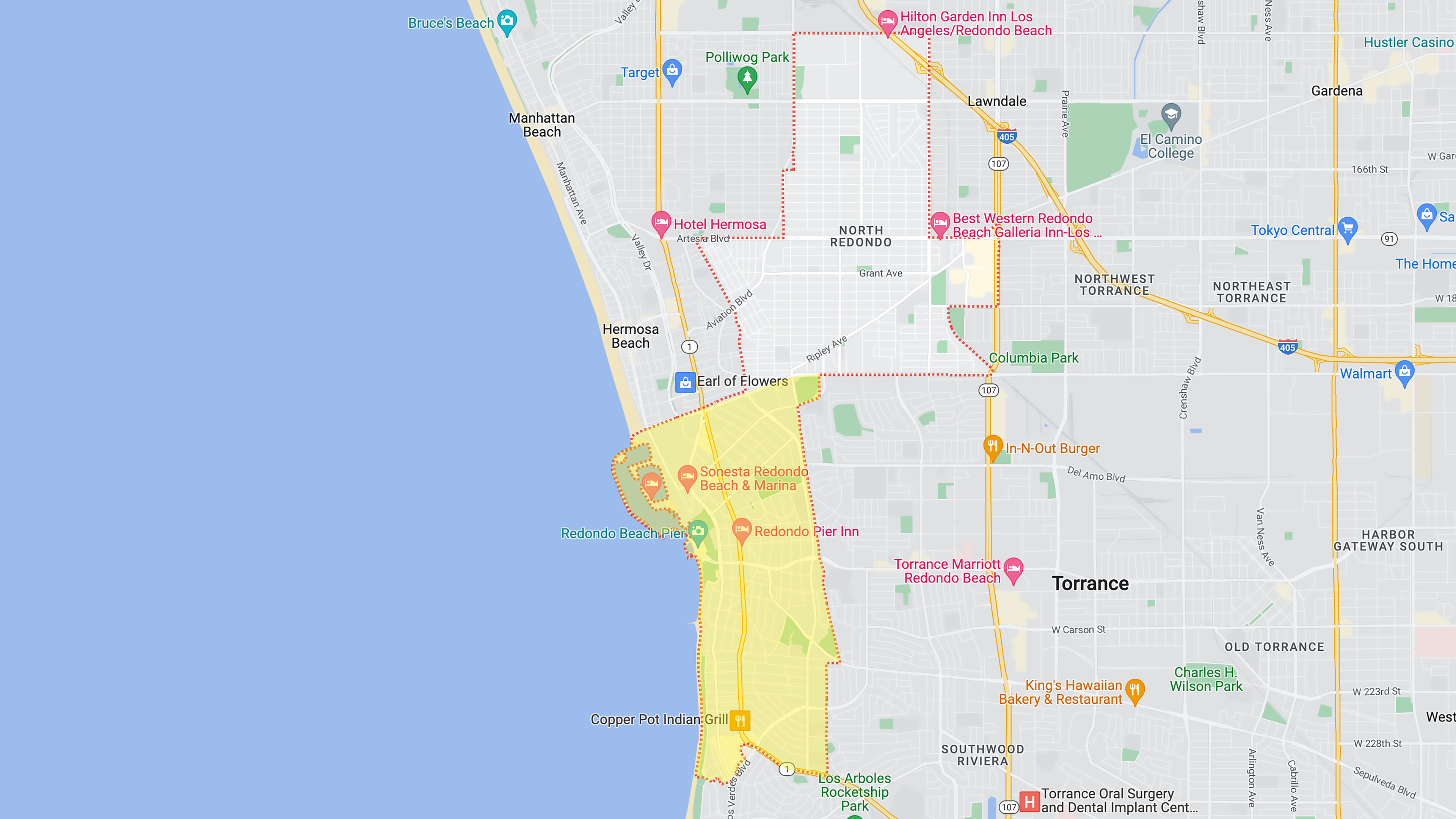 West of Pacific Coast Highway
The Esplanade
This is Redondo Beach's waterfront or "Strand" Section along the cliff that leads down to the shore, so you get beachfront living and unobstructed ocean views. The Esplanade runs from the South end of Redondo Beach all the way to the Redondo Beach Pier. You will often see people watching the sunset along the cliff because you have views from the Palos Verdes peninsula to Catalina.
The majority of the Esplanade is made up of condos and townhouses including some high-rise buildings, which is a rarity in the South Bay so close to the beach. There are a handful of single family residences on the Esplanade and nearly every home has ocean views and steps from the beach!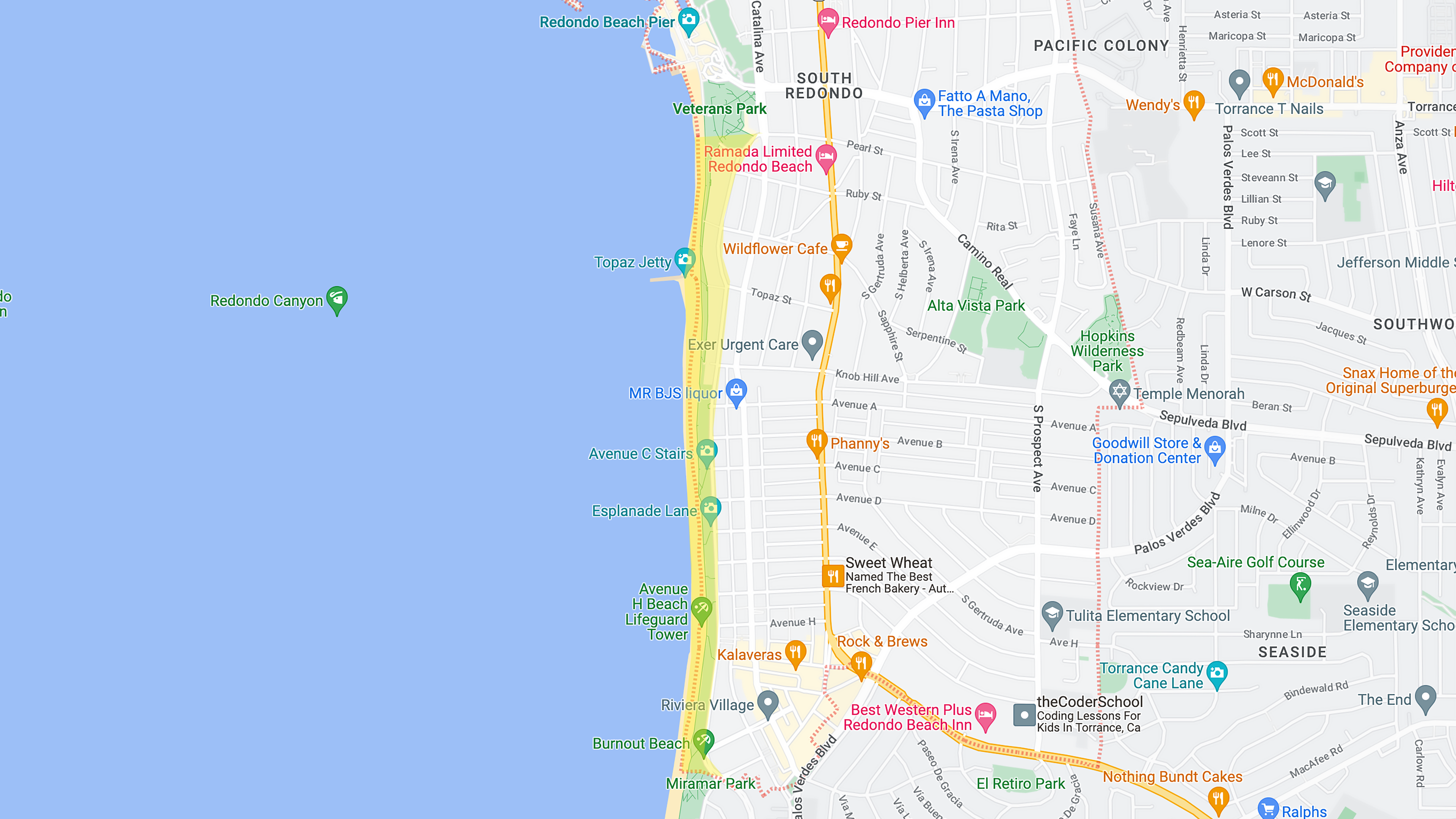 Lower Avenues
The Lower Avenues are located at the southernmost tip of Redondo Beach between the PCH and Catalina and referred to as the Avenues because of the street names- Avenue A all the way through Avenue I. The Lower Avenues, which consist of the 100-200 block have flat, wide streets and are located west of the PCH. This is an ideal location along the coast because you have easy beach access, awesome sunsets and you are walking distance to many shops and restaurants in the area including Riviera Village.
The Lower Avenues are primarily single family residences a mix of small, older and original homes and newer construction and larger homes. There are duplexes mixed in as well, but not as prevalent. The lower avenues is a very nice place to live and homes in this section are sought after so when they become available they sell quickly!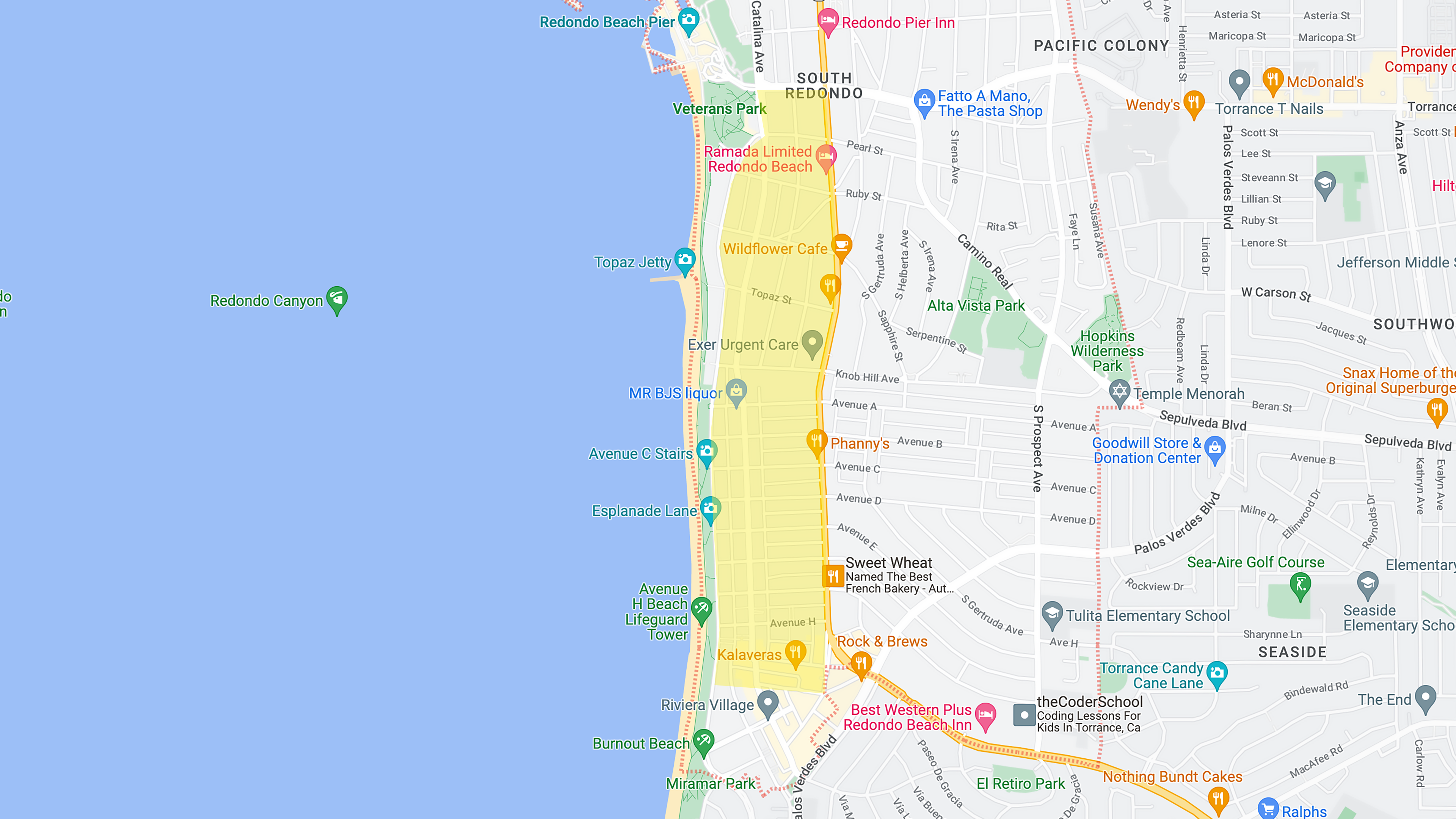 The Pier
The Pier section is located on the north side of Torrance Boulevard and west of PCH close to the Redondo pier. This is a small sub-section of the west of PCH area that begins at Torrance Boulevard and ends at Beryl St.
There is a great mix of single family residences, townhomes, condos and multi-family properties in this part of the city. This part of the city also has many historical homes that benefit from the Mills Act, which provides a significant savings in property taxes.
Residents of this area can easily walk to the Redondo Beach pier and the King Harbor marina which offers an abundance shops, restaurants, outdoor activities like sport fishing, and whale watching charters. Redondo Beach pier and the King Harbor marina is also where many of the city's events and great entertainment occur like summertime concerts, community movie nights, free yoga, Farmer's Market, annual Kite Festival, and the 4th of July Fireworks .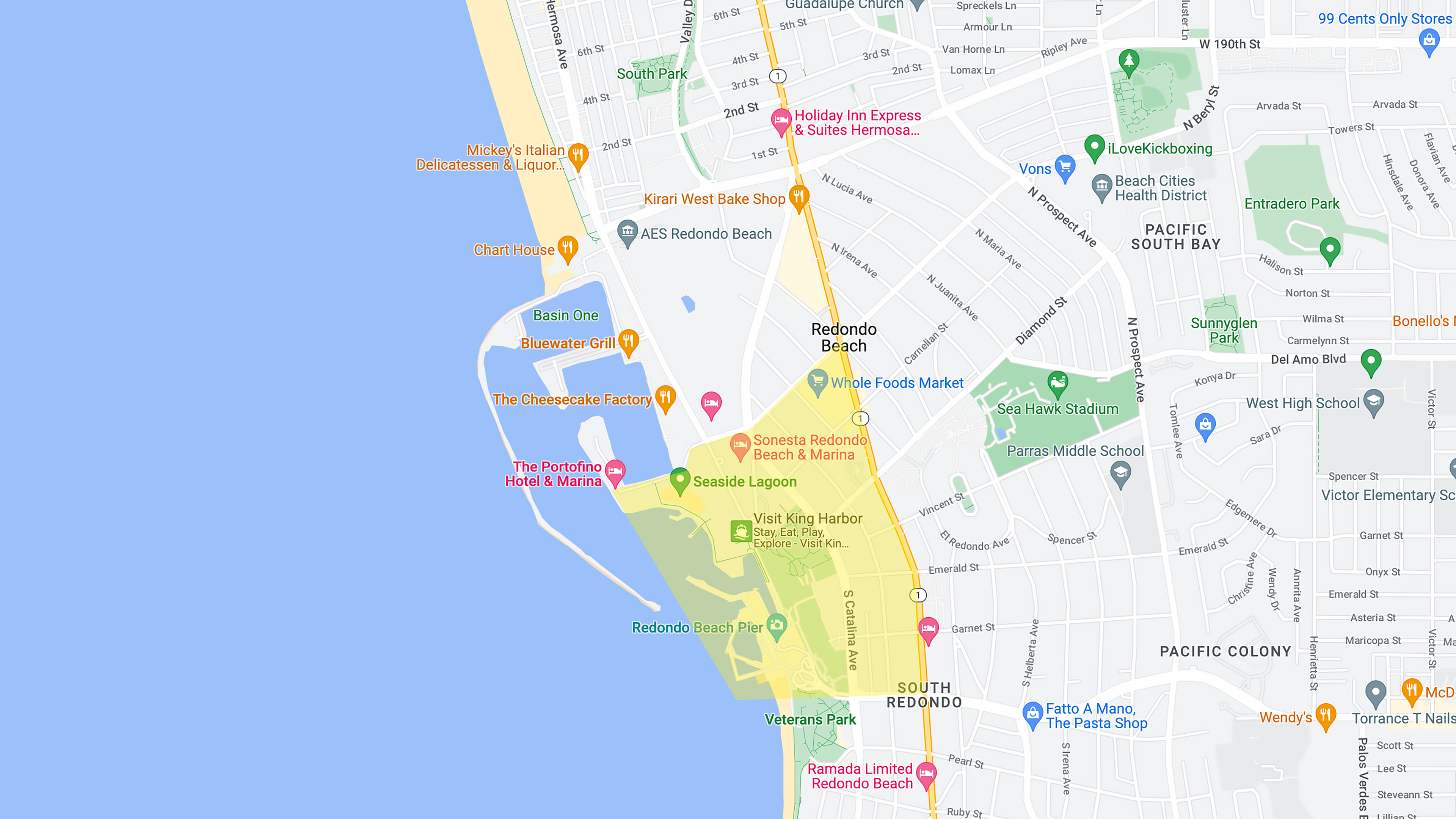 The Marina
The marina section of the city is located west of PCH, North of Beryl St bordering Hermosa Beach at Herondo Street and is the smallest subsection of the city. Residents of this area can easily walk to the King Harbor marina, waterfront dining restaurants and bars and events such as Beach Life and Ranch Life, which are music festivals and some of the city's most anticipated events that happen annually along the waterfront.
The AES power plant is located in this section . Redondo Beach city council sought the plant's closure for decades and came close a handful of times within the last 10 years but AES has recently announced they are committed to finally retiring the Redondo Beach power plant at the end of 2023, unless it's postponed again by state officials. Plans for this 49 acre plot of land call for demolishing the plant and replacing it with a sprawling development that includes more than 2 million square feet of housing, 510,000 square feet of offices and a 150,000-square-foot hotel surrounding a 22.5-acre park.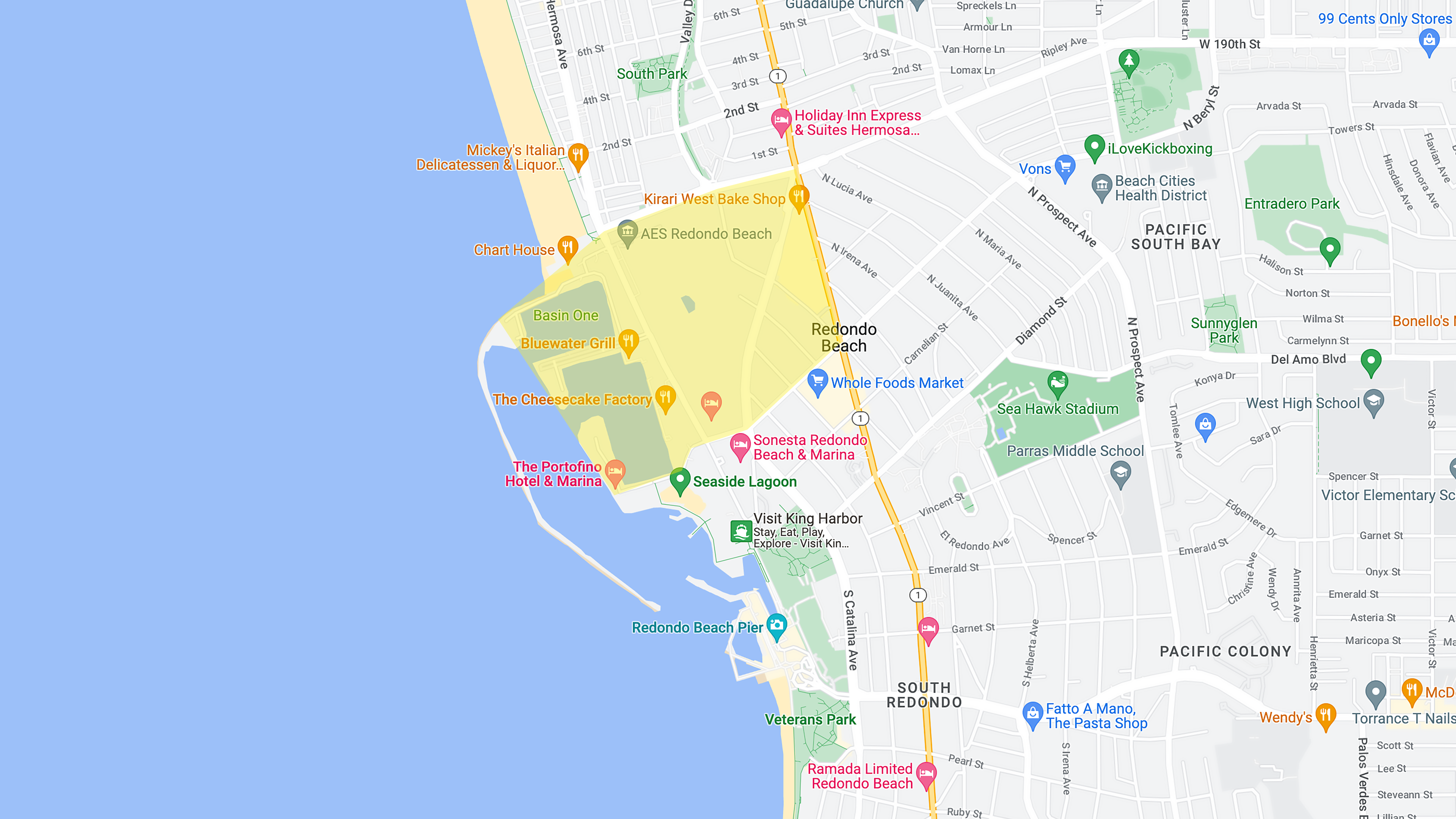 North of Torrance Boulevard
This area is divided into two sub-sections: North of Redondo Union High School and South of Redondo Union High School . A majority of streets that run east to west in this section are referred to as Gem Streets because they have the names of gemstones. The streets were named that way as a tribute to what was once Moonstone Beach where deposits of gemstones could be found along the shore. The North to South running streets in this section are referred to as the girl streets. These streets are named after the daughters of Manual Dominguez, the original landowner of what is now known as Redondo Beach.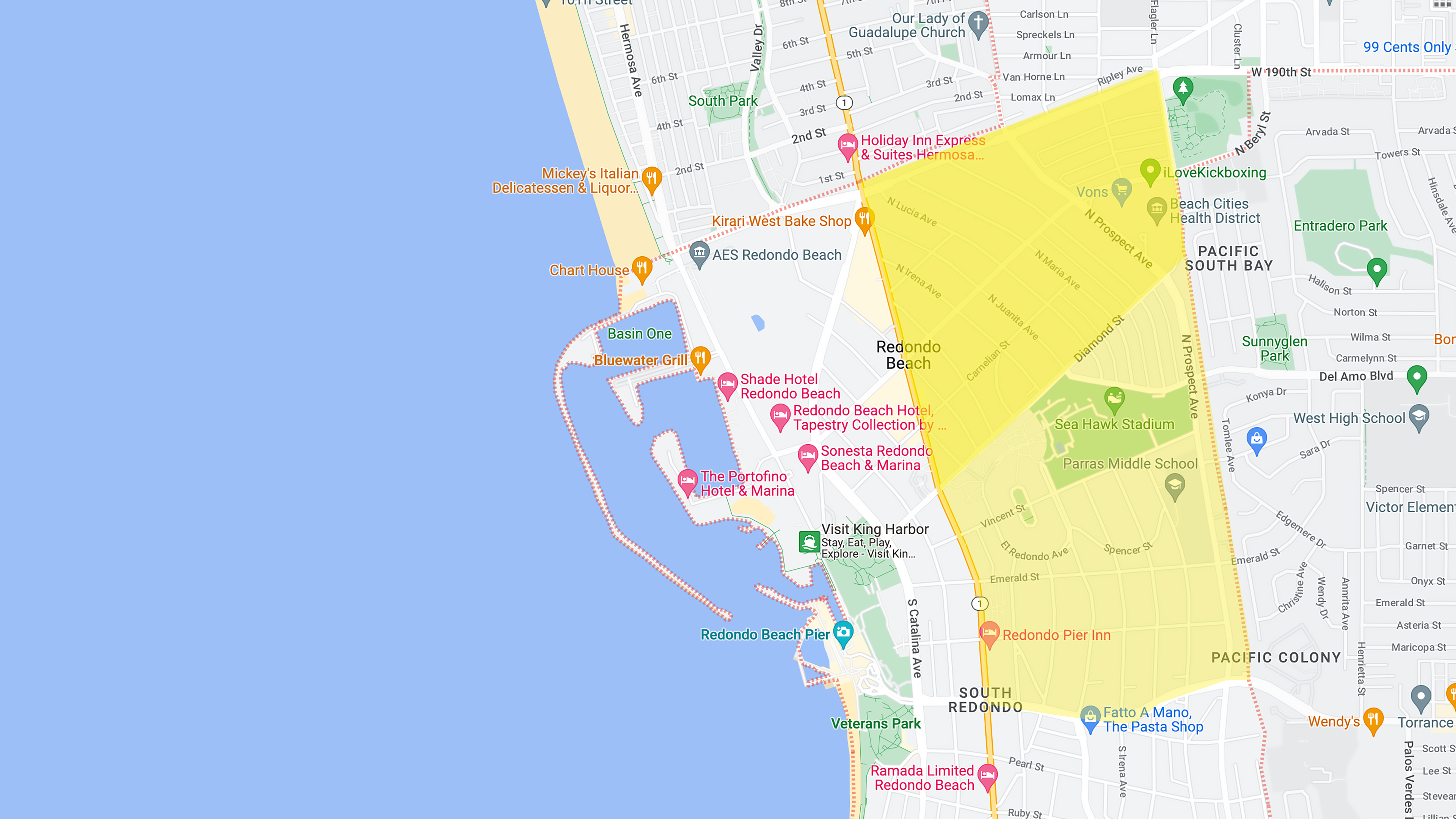 North of Redondo Union High School
This section is primarily located east of PCH, west of Prospect Ave., north of Diamond St. and south of 190th St./Anita St. and north of Redondo Union High School. This neighborhood has a mixture of older and newer homes, smaller and larger homes as well as older and younger families. It is also walking distance to the Redondo shores Shopping center, Kings Harbor Marina , and the pier.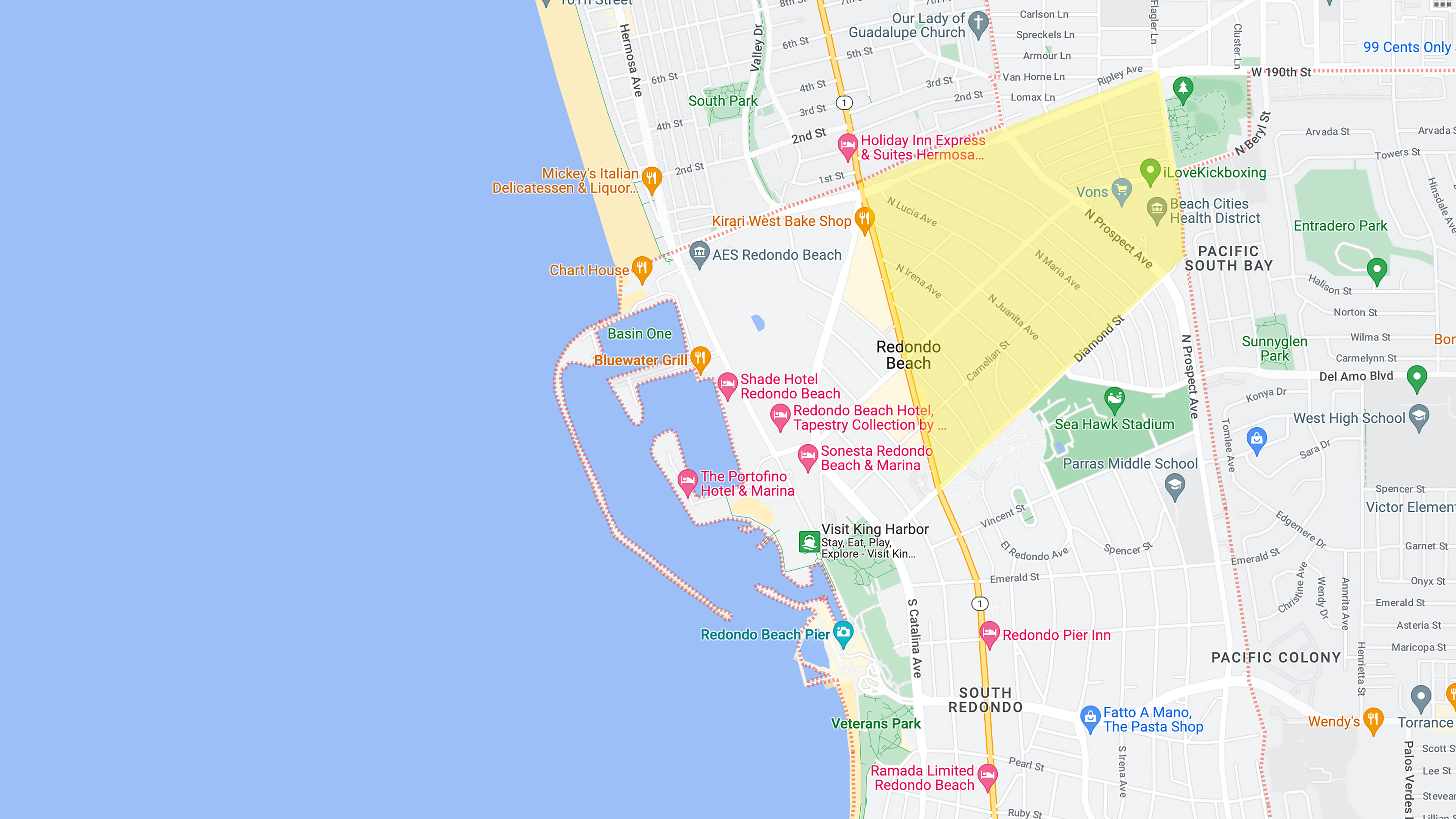 South of Redondo Union High School
This section is primarily located east of PCH, south of Diamond St., north of Torrance Blvd. and west of Prospect Place. This neighborhood is made up of smaller townhome communities, larger two-on-a-lot and three-on-a-lot style townhomes, SFRs and historic beach houses.
This location is also walking distance most outdoor recreational activities like surfing, kayaking, the pier, King Harbor Marina, and the Marvin Braude ocean front bike trail.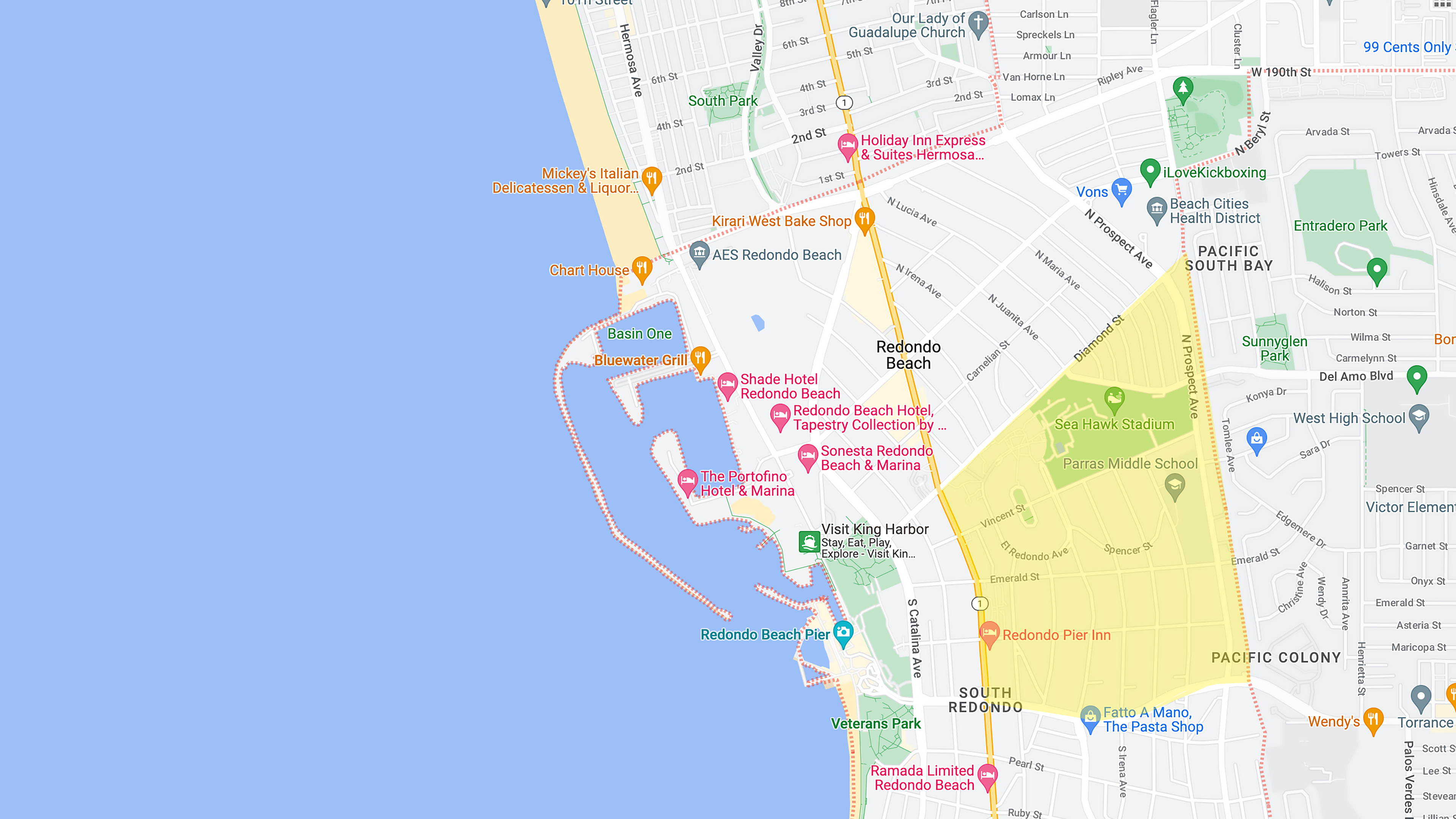 South of Torrance Boulevard
This area is divided into two sub-sections: Alta Vista and the Upper Avenues. This section located east of PCH offers all the amenities of quintessential Southern California costal living and more. Its a quite neighborhood with large parks and natural attractions. Hopkins Wilderness Park is an 11-acre site nestled in this pocket of South Redondo dedicated to conservationist study and is open to the public for overnight camping excursions.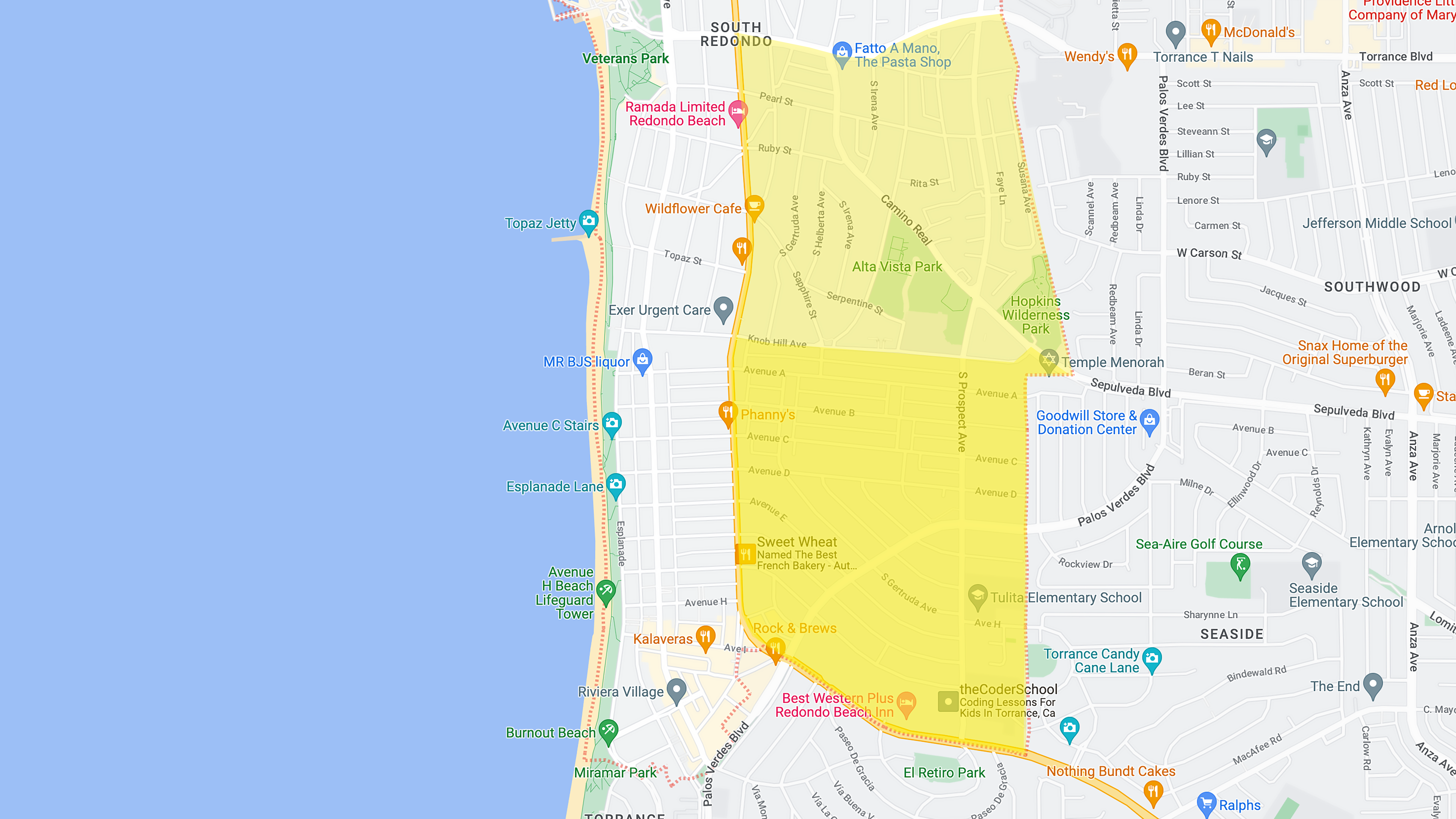 Alta Vista
This subsection is located east of PCH, south of Torrance Blvd, north of Knob Hill and west of Susan Ave. This neighborhood is made up of primarily single family homes and surrounds the 19-acre Alta Vista Park.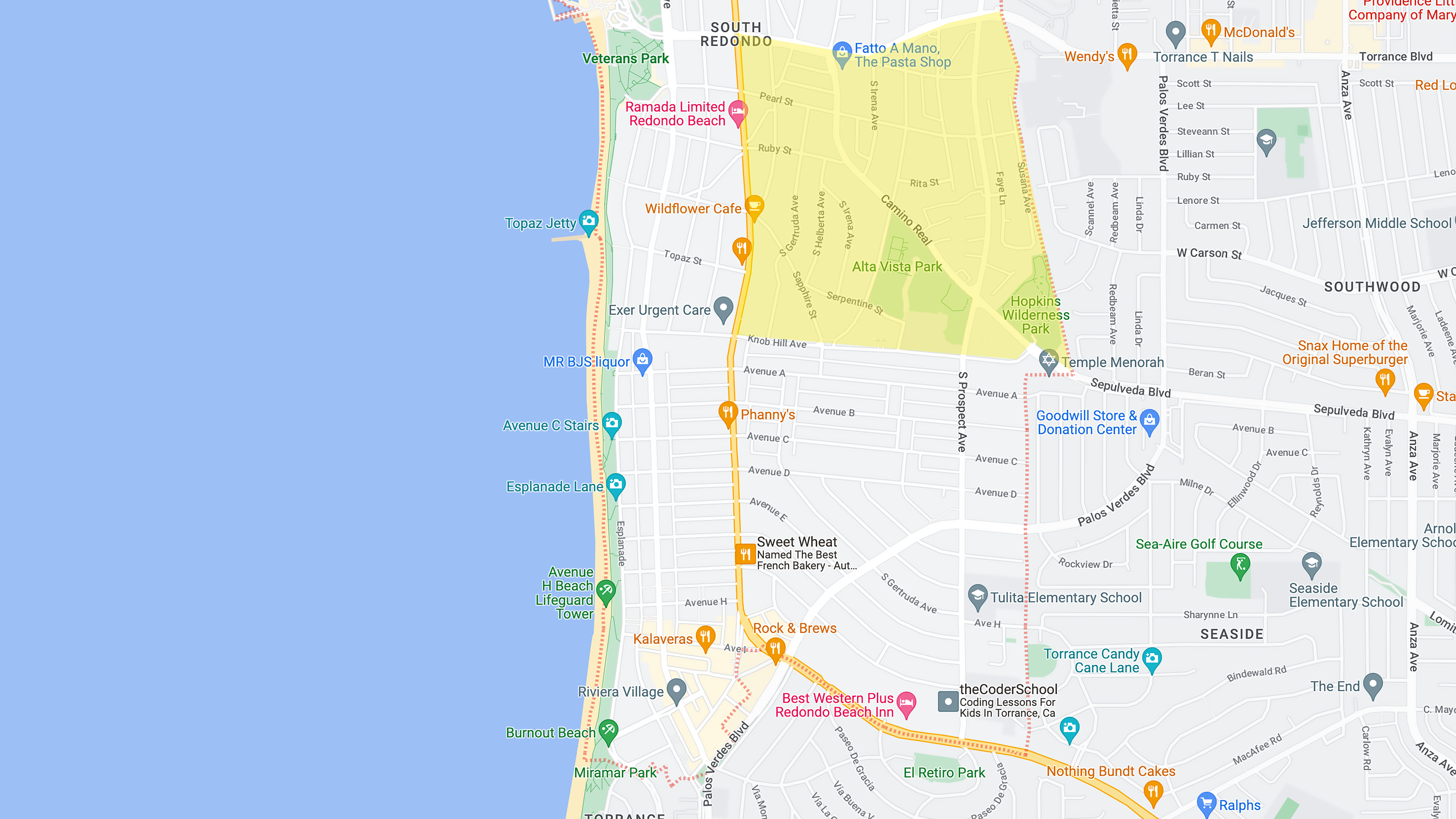 Upper Avenues
East of PCH and south of knob hill you find Avenue A south through Avenue G is known as the "Upper Avenues". The geography of the land on the east side of PCH, begins to climb a hill which offers ocean views for some properties in this subsection. Living along the upper Avenues is highly desired, as it is a quiet neighborhood with larger lots and larger homes. But still in close proximity to beaches, shopping, dining and entertainment in the Riviera Village.
Hollywood Riviera
The Hollywood Riviera is a neighborhood in the southwestern corner of Redondo Beach, California. It is bounded by Torrance Boulevard on the north, Hawthorne Boulevard on the east, PCH on the south, and West Palos Verdes on the west. The district is bisected by Via Marina, which runs from Palos Verdes Drive West to South St.
The Hollywood Riviera is one of Redondo Beach's oldest neighborhoods; development began in 1906 with the opening of a streetcar line that ran down today's Via Marina. In its early days, the Hollywood Riviera was an exclusive enclave for the wealthy; many of its homes were designed by well-known architects such as Wallace Neff and Paul R. Williams. The neighborhood declined in popularity in the middle of the 20th century, but has seen a resurgence in recent years as young families have sought out its unique character and proximity to both downtown Redondo Beach and Manhattan Beach. The Hollywood Riviera is a charming neighborhood filled with charming homes and beautiful tree-lined streets. You are a short distance to the popular Riviera Village and the beach.
Start Your Search
The information being provided by CARETS (CLAW, CRISNet MLS, DAMLS, CRMLS, i-Tech MLS, and/or VCRDS)is for the visitor's personal, non-commercial use and may not be used for any purpose other than to identifyprospective properties visitor may be interested in purchasing.Any information relating to a property referenced on this web site comes from the Internet Data Exchange (IDX)program of CARETS. This web site may reference real estate listing(s) held by a brokerage firm other than thebroker and/or agent who owns this web site.The accuracy of all information, regardless of source, including but not limited to square footages and lot sizes, isdeemed reliable but not guaranteed and should be personally verified through personal inspection by and/or withthe appropriate professionals. The data contained herein is copyrighted by CARETS, CLAW, CRISNet MLS,DAMLS, CRMLS, i-Tech MLS and/or VCRDS and is protected by all applicable copyright laws. Any disseminationof this information is in violation of copyright laws and is strictly prohibited.CARETS, California Real Estate Technology Services, is a consolidated MLS property listing data feed comprisedof CLAW (Combined LA/Westside MLS), CRISNet MLS (Southland Regional AOR), DAMLS (Desert Area MLS),CRMLS (California Regional MLS), i-Tech MLS (Glendale AOR/Pasadena Foothills AOR) and VCRDS (VenturaCounty Regional Data Share).